Probably Bohol's most famous tourist attraction are the Chocolate Hills. People who first see pictures of this landscape can hardly believe that these hills are not man-made. It is unknown how many Chocolate Hills there are. It is known that there are 1268 hills but some estimates put this number as high as 1776. The hills are not huge, the highest one barely reaches 120 meters in height, most hills are between 30 and 50 meters. These conical Chocolate Hills are scattered within a fifty square kilometer area. How the Chocolate Hills were formed remains a mystery. One of the popular local legends is that long ago, two giants fought for days, hurling earth and stones at one another, until they fell exhausted, friends once more, into each other's arms.
More romantic is the handsome young giant, Arogo, who fell in love with a mortal woman. When, as mortals must, she died, the giant wept, his great teardrops turning into the Chocolate Hills.
However geologists have different opinions about how these hills were formed, one plausible theory is that they are weathered formations of a marine limestone lying on top of an impenetrable clay base.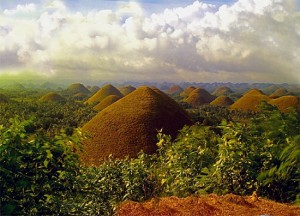 Towards the end of the dry season the grass turns to a chocolate brown color, giving the Chocolate Hills their name.
You can view the Chocolate Hills from two main sites, the Chocolate Hills Complex located in Carmen or from the newer tourist spot of Sagbayan Peak. Both locations offering a great vantage point.
On our Chocolate Hills Tour we will view the Chocolate Hills from Carmen.
All tours include vehicle and Blue Star Dive & Resort guide, maximum capacity for the vehicle is four persons.
Entrance fees, tips and lunch are not included, packed lunch is available on request.

This post is also available in: German