Can-umantad Falls is the most beautiful falls in Bohol and is located at barrio Can-umantad, Candijay. It looks so majestic! From far off, you will see the falls as one high drop but when you look closer, the falls has in fact three layers although the 3rd layer is further off and shorter.
The area where the falls is situated is open and can be clearly seen even at a distance. Trees and shrubs at the top and at the side of the falls give a green backdrop to the falls.The ravine looks like a one solid rock with shrubs clinging at cracks and crags.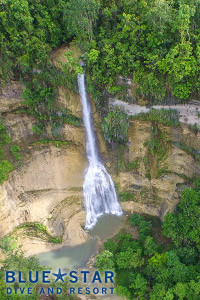 The upper falls is 45 meters high (according to the local guides), wide and with thick cascading waters. The water drops over a very deep ravine, flows a bit further and then falls a second time over a cliff.
The second falls is two to three times wider yet by far shorter in length in comparison to the upper falls. The flow of water looks thinner compared to the upper falls because the water from above flows out and is distributed towards a wider area.
Basins are formed below both falls; carved out from solid rock forming natural swimming pools that are very deep near the falls and shallower at the rim.
Sprays that burst out when the water hits the foot of the falls form a thick mist at the bottom and spreads far. It seems it is forever raining near the falls and the surrounding area is always wet.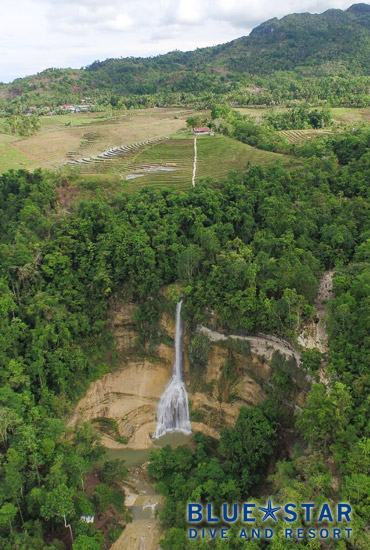 All tours include vehicle and Blue Star Dive & Resort guide, maximum capacity for the vehicle is four persons.
Entrance fees, tips and lunch are not included, packed lunch is available on request.

This post is also available in: German