With this Bohol Tour Package you will visit historical landmarks like the Blood Compact Shrine and meet the cute Tarsiers, feast your eyes on the world-famous Chocolate Hills and relax on the Loboc River Cruise visit the Simply Butterfly Conservation Center and more!
Blood Compact Shrine
The Blood Compact Shrine commemorates the first treaty of friendship between the white and brown races. Spanish conquistador Miguel Lopez de Legazpi and local chieftain Rajah Sikatuna sealed the treaty by drinking wine mixed with blood, thus it was called the "Blood Compact" or "Sandugo".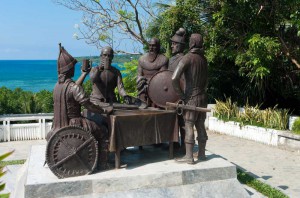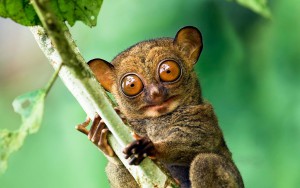 Tarsier
The Tarsier (known locally as mawmag) measures only between 85 to 160 millimeters and is widely considered as the world's smallest primate and is also listed as an endangered species. With its large eyes, the Tarsier hunts small insects for food and climbs from tree to tree.
Loboc River Cruise and Floating Restaurant
Take a ride on one of the floating restaurants and treat yourself to some relaxation, along with a magnificent lunch and traditional local music. The cruise boats on the river are made of two boats where a platform carries a mini restaurant.  The boats are propelled by a smaller pump boat.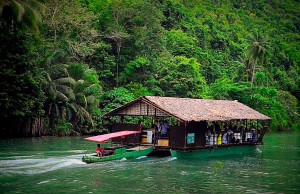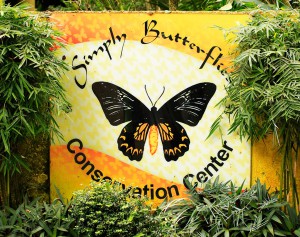 Simply Butterfly Conservation Center
Simply Butterflies is founded on butterfly conservation principles. To protect and strengthen the natural environment of the butterflies, through plant research, breeding and releasing. You will come face-to-face with hundreds of exotic beautiful butterflies fluttering around tropical foliage and flowers. Sit and relax, or take a stroll with the butterflies.
Filipinos have long held the belief that butterflies injure and even kill people. By educating the people and sharing knowledge of how to breed butterflies, the center has built a community of paid breeders in an area with serious lack of employment and income.
Bilar Man-made Forest
Bilar Man-made Forest was part of a bigger reforestation project that was created in response to the alarming deforestation in the Loboc watershed. This was caused by the destructive slash and burn farming system called kaingin, which was done by the locals who sought refuge in the forested area during World War II.
The reforestation plan started during the administration of Governor Conrado Marapao in 1947, which was continued in succeeding administrations. The plan became the Loboc Watershed Reforestation Project (LWRP), which was launched in December 1953 consisting 19,410 hectares of land in the towns of Lila, Loboc, Sevilla, Batuan, Carmen, Sagbayan, Catigbian, Balilihan, Sierra Bullones, Valencia, Garcia-Hernandez, Jagna and Bilar.
The Bilar Man-made Forest, stretching up to two kilometers, the dense forest made up of red and white mahogany trees is located along the border of Loboc and Bilar towns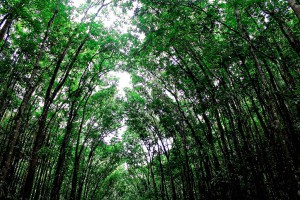 All tours include vehicle and Blue Star Dive & Resort guide, maximum capacity for the vehicle is four persons.
Entrance fees, tips and lunch are not included, packed lunch is available on request.

This post is also available in: German